Holy Hall of Dusk Guide
Holy Hall of Dusk, the place to farm your Holy armor and weapon.
To enter into the desicion hall where you set up the dungeon you either fly to the hidden portal at (130,669) or enter via Stone Of MystRealm in Dragon City west and south teleporter (top option, need to be lvl 60+ to use) Through That stone you can also teleport into any other FB/dungeon.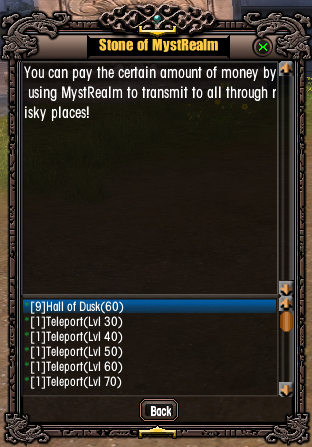 Modes:
In Holy Hall of Dusk (more known as HH) there are 2 main ways of doing the instances.
Solo mode:
- any number of party members
- mobs and bosses are easy to kill
- Less drops of the mats, sometimes not a single one
- Requires you to put a ThouArgute Wood to start
Party mode:
- minimum of 4 party members who need to be at the spot when you open the dungeon.
- Tough mobs and bosses
- Best drop rate (ive had between 3 and 6 drops on this server for lower lvl (60-70) mats)
- no wood requirement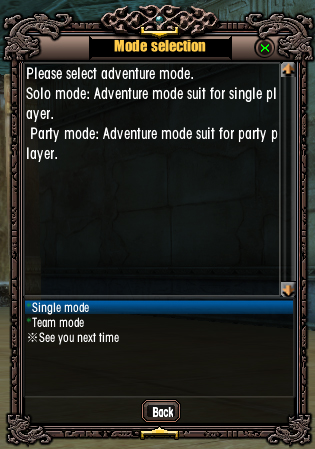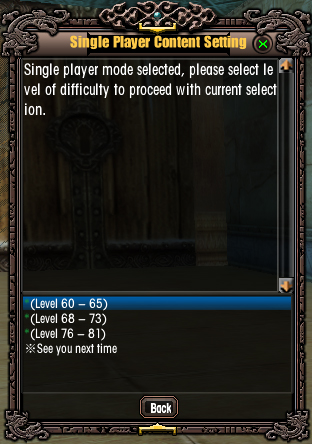 When referring to different places in Holy Hall people tend to use numbers like 1-2, 2-1, 3-3...
The first of the 2 numbers of each place indicates which chapter you are in and there are 3 different ones.
In Hall of Decision you choose whish one of them you want. The entreances are 3 Iron Steeles, the one closest to where you get in to the hall is chapter one and the next one chapter 2 and the last is chapter 3.
The second indicates what difficulty with a number of 1,2 or 3. Also an indication of level of the mobs and mats.
the image above to the right shows how you select that.
The Materials and crafting
The crafting of items there are made in a hierarchy which means you have to go from the bottom to get to the top.
Craft the 60 weapon to make the 70 weapon and so on as this image demonstrates about the caster weapon.
Each new row is a new lvl (60,70,80,90,99 and 100)
It is the same for everything, armor and accessories too.
Disassemble the previous one to get one of the ingredients for the next.
You can only make the Weapons/armors/accessories in the furnaces in Hall of Decision or next to General Sorely in Dragon City (521,627)
ThouArgute Wood:
Is made in Holy Hall Furnace.
each one consist of:
-5 Fine-Smelt Steel
-5 Fine Timber
-5 Whetstone Powder
-5 Anthracite
List of the mats:
Here are the mats dropped in HH and where they are dropped. Mats for gold items are bold.
Chapter 1:
1-1: Coloussus Blade,Smashed Tambour
1-2: Coloussus Loricae,Complete Tambour,Fetch Tentacle,Ancient Snake Skin,Broken Golden Scute
1-3: Coloussus Armor,Deligency Drum,Fetch Golden Mirror,Ancient Snake Blood,Solid Gold Scute,
Golden Armor Soul,Ancient Snake Spirit
Chapter 2:
2-1: MadCougar Leather Armor,Great Ape Tooth,BierBite Beast Claw,Archilles Black Armor,Ashura Corslet,
Archilles Steel Armor,Asura Black Pearl
2-2: MadCougar Claw,Ashura Hamulus,Archilles Hob,Great Ape Leather Armor,BierBeast Mane,Starts Powder,
Seven Shine's Feel,,Great Ape Glove
2-3: MadCougar Blade,Ashura Broken Arm,Archilles Horse - Horn,Great Ape Tail,Great Ape Steel Mane,Seven Shine's Quoit,Astral Stone,Ancient Belial's Horn,
Elf of Seven Shine Strength,Ancient Belial's Soul
Chapter 3:
3-1: Armor of Shade,Behemoth Solid Shell,Goddess Pearl,Hag Hand,TerraWraith Lace,GhostSlave Horn,
Behemoth Fine Carapace,GhostSlave Crust,SaintMater Aura
3-2: Behemoth Dark Aura,Hag Electric,GhostSlave's Flaming Heart,Energy of TriOcular,SaintMater Stone,Dark Squama,Minister's Mark,Damen Spirit Face,Charie Pearl,Charie's Blade,
Hag Spirit,Damen Dark Soul…
3-3: Dark Pincers,Hag Crown,GhostSlave Axe,SaintMater Heart,Behemoth Redish Horn,MystRealm Fountain,Damen Whip,TriOcular Golden Roop,Emperor Memp,Behemoth's Black Pincers,TriOcular's Flaming Heart,Dynasty Groan,
Behemoth's Foot,GothWratih Protection Shell,Damen Phonic Pinna,Golden Domino,HeavenEarth Eido,Dusk Crosier…
Also the bosses drop a lot of mirages and some Rancor's Expedition scrolls
Apart from the mats bosses Drop you will need another extra add on mats.
They are dropped by all bosses in that instance and can also be found in Treasure chests around in HH.
They are:
DeadBone Fragment, Mystery Skull, Ancient Broken Sword, SaintEmple Stone, Dusk Mark.
Ok, gathered all the spots for the treasure chests in HH chapter 1 & 2 now.
Have no idea of where and which ones are in the chests in chapter 3, as i have to admit i've never been inside chapter 3 o.0
But here are the green dots in chapter 1 that are the DeadBone Fragments and the yellow dots in chapter 2 that are Mystery Skulls.
Eventually i will add the spots for the ones in chapter 3.
All of the extra mats arent found in chests so you will have to enter the correct mode in order for them to drop from mobs and bosses.
Also woth adding now with the map here:
Chapter 1 is the beige yellow one to the left,
chapter 2 are the 2 blue/gray ones to the top right and
chapter 3 is the blue at bottom right of image
This covers about all i think, hope it helps!
Ill add some more if you find something thats missing